There was a bit of a frenzy this week regarding a report that Apple's (NASDAQ:AAPL) next iPhone would cost more than $1,000. Some were quick to point out that the comparison to the current iPhone was apples to oranges because it detailed the current high-end device. However, it does seem likely that the technology giant will have an iPhone priced at more than $1,000 in the US for the upcoming major launch.
I actually explored this idea several months ago before the launch of the iPhone 7. At that time, there were rumors that Apple was going to a three-phone lineup for its standard device (excluding the SE here). This would be a base model, Plus, and a Pro version. I speculated that the top of the line Pro model, with 256 GB of storage, would certainly crack the $1,000 level. Ultimately, Apple went with just two models.
However, the iPhone 7 Plus did get a price raise, up $20 from previous generations, starting at $769. The smartphone does have a $969 price tag for the 256 GB storage level, which isn't too far from the key $1,000 mark. The price increase helped Apple report a rise in iPhone average selling prices for its holiday period over the prior year's quarter, despite the cheaper SE in the mix.
One noted Apple analyst recently detailed that the higher cost of components for the next iPhone will push the price north of $1,000. If we just look at some of the rumors, this would make sense, primarily because the top-end model will have a 5.8 inch screen, which is nearly 5.5% larger than the screen size of the 7 Plus. Add in some more of the bells and whistles that are expected to go into this anniversary edition and $1,000 doesn't seem crazy.
As the article linked in my opening details, this is for the top end of the iPhone range and the largest storage model. The newest entry level device is not going to be anywhere near this mark, although it wouldn't surprise me if it gets a price raise if Apple stays with a two-device setup. If Apple does go to three models, the "base" level model may end up cheaper depending on screen size, features, etc. If component costs are surging, Apple will look to protect its margins, and that means consumers will be paying more. Average selling prices are likely to rise anyway if reports of no refresh of the SE model are true.
While the iPhone 7 was only supposed to be a bridge device for Apple, it certainly has done well so far. Thanks to Samsung's (OTC:SSNLF) troubles with the Note and Google's (NASDAQ:GOOG) (NASDAQ:GOOGL) limited launch of the Pixel, Apple dominated the holiday season in terms of profits. As the graphic below shows, Apple had almost the entire share of profits, despite just 17.6% of sales, which did beat Samsung for the period by the way.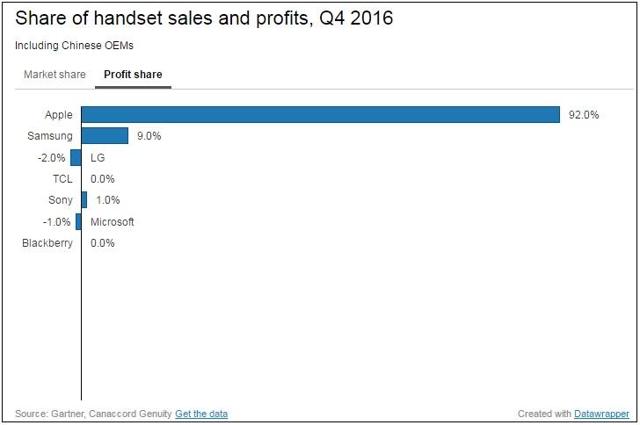 (Source: Philip-Elmer Dewitt via Canaccord)
2017 will certainly be a big year for smartphones. Samsung needs to come back in a big way to get consumers trusting the brand, while Google looks to get the Pixel growing with an upgraded model. In the end though, all eyes are on Apple for the highly anticipated 10th anniversary edition. Expectations are high, and it is likely that the price will be too, with at least one iPhone model/configuration crossing the $1,000 mark in the US. If Apple can get average selling prices to rise further on top of expected unit sales growth, the company will be set up very well.
Disclosure: I/we have no positions in any stocks mentioned, and no plans to initiate any positions within the next 72 hours.
I wrote this article myself, and it expresses my own opinions. I am not receiving compensation for it (other than from Seeking Alpha). I have no business relationship with any company whose stock is mentioned in this article.
Additional disclosure: Investors are always reminded that before making any investment, you should do your own proper due diligence on any name directly or indirectly mentioned in this article. Investors should also consider seeking advice from a broker or financial adviser before making any investment decisions. Any material in this article should be considered general information, and not relied on as a formal investment recommendation.
Editor's Note: This article discusses one or more securities that do not trade on a major U.S. exchange. Please be aware of the risks associated with these stocks.