The worst thing that can happen to a currency is uncertainty. In the post-referendum in Britain which resulted in a shocking Brexit victory there is an overwhelming uncertainty that can weaken the British pound to levels never thought in relation to the major world currencies.
Let's look at this long-term chart below.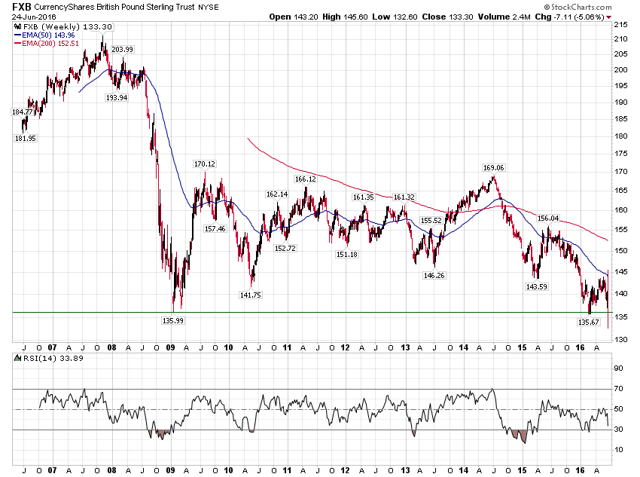 Chart courtesy of StockCharts.com
It represents the most important British pound ETF (NYSEARCA:FXB) - The Currency Shares British Pound Sterling Trust ETF - which reflects the performance of the GBP/USD exchange rate. It clearly shows that following the substantial fall in 2009 the sterling was trading within a large channel between 170 and 145. The horizontal line at 136 represents a value close to all-time lows. I think that this level will not resist for long and we'll see a real plunge of the British pound.
Britain's leave of European Union implies a long process of negotiation which will last for more than two years. This is the key point: an exit that will bring great economic, financial and social problems for the country and makes even more uncertain all the context of this case. So it will be expected a recession driven by a critical shortage of domestic and foreign investment.
All indicators favor the significant devaluation of the British pound. In fact, UK has to deal with uncertainty, expected recession, low interest rates and a situation where money will be flowing out of Britain as the country is a potential net importer (as we may see on the chart below).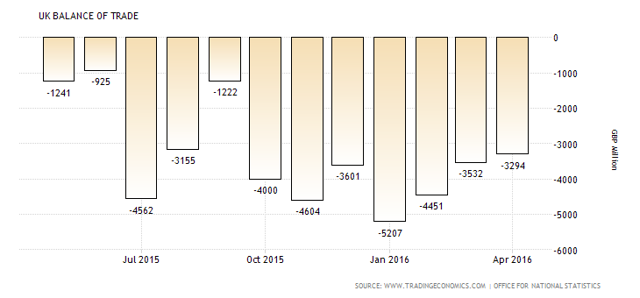 Chart courtesy of www.tradingeconomics.com
It is crucial to follow every movement of the British pound against the US dollar. For that purpose, the next chart below is very enlightening.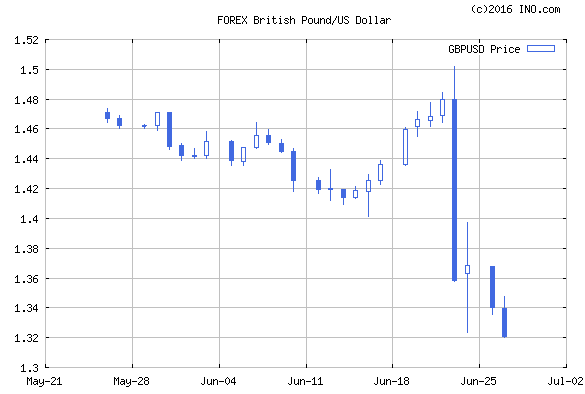 Chart courtesy of INO.com
What will be the future of the British pound? In the short and medium term we'll probably witness a struggle to avoid a free fall. But how long will it hold at $1.30? I think it is a matter of (not much) time to see it touching $1.25 or even lower. Nothing is certain in the forex and even if I'm right there will be advances and setbacks. Furthermore, currencies don't move on a straightforward path. The road is always full of surprises.
Disclosure: I/we have no positions in any stocks mentioned, and no plans to initiate any positions within the next 72 hours.
I wrote this article myself, and it expresses my own opinions. I am not receiving compensation for it (other than from Seeking Alpha). I have no business relationship with any company whose stock is mentioned in this article.