By Michael Kramer
Today, I decided to plot out the global yield curve to get a sense of the global sovereign market and it's projection for global growth. It was pretty impressive once I pieced it all together. I don't think it would catch anyone by surprised that three major Bond markets, the US, German and Japanese market are collectively expecting nearly no growth over the next five years.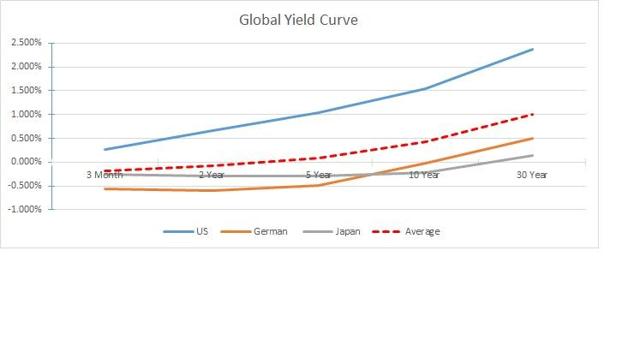 We can see from the chart above the Japanese and German Bond markets are mostly flat from 3 months all the way out to 5 years -- and in Japan's case, all the way out to 10 years. We can see the US yield curve as the largest incline. However, when we average the three curves together, we come up with a very flat curve for at least the next five years.
I suspect that the US curve will continue to flatten over the next few weeks to months. With the Fed passing on a rate hike yesterday and most likely passing in July, it would seem that the US curve can only flatten further.
Additionally, the release of the May CPI data continues to point to ever-slowing rates of inflation.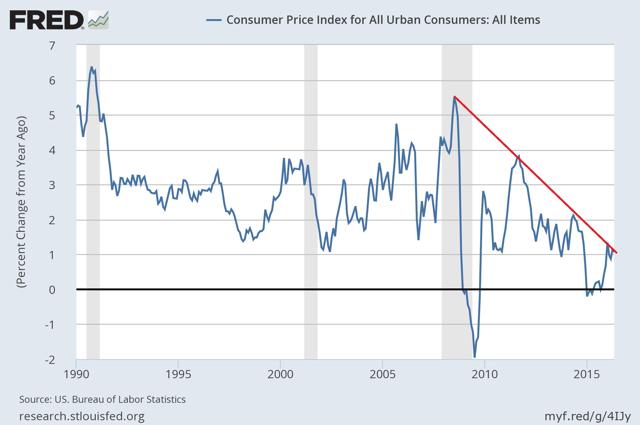 We can see from the chart above the rate of change in CPI continues to head lower. It has been on this path since the 2008-2009 period. This would support my thesis that the US curve will continue to flatten further.
It has been my belief for some time that next action the Fed will take will not be a tightening, but some form of easing. The Fed's next action could be QE. Or it could make use of its open market operations with repurchase agreements or the term deposit facility. This would allow the Fed to add and drain liquidity out of the markets.
The flattening yield curve and low inflation seem to be supportive of this action.
Disclosure: I/we have no positions in any stocks mentioned, and no plans to initiate any positions within the next 72 hours.
I wrote this article myself, and it expresses my own opinions. I am not receiving compensation for it (other than from Seeking Alpha). I have no business relationship with any company whose stock is mentioned in this article.
Additional disclosure: DISCLOSURE: MOTT CAPITAL MANAGEMENT, LLC IS A REGISTERED INVESTMENT ADVISER. INFORMATION PRESENTED IS FOR EDUCATIONAL PURPOSES ONLY AND DOES NOT INTEND TO MAKE AN OFFER OR SOLICITATION FOR THE SALE OR PURCHASE OF ANY SPECIFIC SECURITIES, INVESTMENTS, OR INVESTMENT STRATEGIES. INVESTMENTS INVOLVE RISK AND UNLESS OTHERWISE STATED, ARE NOT GUARANTEED. BE SURE TO FIRST CONSULT WITH A QUALIFIED FINANCIAL ADVISER AND/OR TAX PROFESSIONAL BEFORE IMPLEMENTING ANY STRATEGY DISCUSSED HEREIN. PAST PERFORMANCE IS NOT INDICATIVE OF FUTURE PERFORMANCE.